Just one transformed life is a stepping stone to a transformed community...
New Mornings Reentry Services provides one answer to that on-going question, "What can Christians or churches do better together that we have been doing separately?" New Mornings seeks to communicate transforming hope by providing information, practical services, and one-on-one mentoring relationships to previously incarcerated people, who have determined there is no hope. This requires many hands and feet as this cannot be accomplished by only a few.
Mentoring
Previously incarcerated people face many barriers when they return to the community. Having a mentor can be key to a successful reentry. A mentor is someone who serves as an encouraging friend, a loving accountability partner, and a supporting guide to help keep focused on goals and a reminder that overcoming obstacles is possible.

More on New Mornings Services...
New Mornings Reentry Services currently works with inmates serving time for various offenses at the Chester County Prison/Correctional Center who are returning to the Coatesville area. Our caseworker, Janis McElwee, is the inmates first point of contact with New Mornings and she continues to work with them from pre-release to post-release. Janis serves as an advocate assisting the inmates by providing a variety of services such as obtaining required ID, coordinating continuity of care upon release including the uninterrupted continuation of health sustaining medications and networking the inmates/previously incarcerated persons into a variety of other essential services.
The Fresh Start course is offered to all inmates but is mandatory for the inmate who chooses to have a mentor as long as the classes are being held during their time of incarceration. These classes offer both practical guidance and foundational faith based principles to help the inmates learn how to think differently and how to make different choices than those they made in the past.
A group of liaisons from within various social service and criminal justice agencies provided their expertise, their knowledge and time at the start-up of this program and continue to serve the program in an advisory capacity.

Although the New Mornings program and Mentor Training has been developed in response to the reentry conditions of Coatesville, PA, the fundamentals of the program and training are transferable to other regions.

For more information about New Mornings please contact us:

Mailing address: P.O. Box 29 Coatesville, PA 19320

Phone: 610.380.1587 Fax:610.380.1587

Download here the New Morning Reentry Services Brochure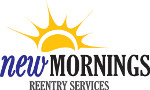 Janis McElwee, Assistant Director/Caseworker [email protected]